Glad to meet you.
Efizia was born from the dynamic partnership between Solsegur Equipamiento Hotelero and Digion Nuevas Tecnologías.
Solsegur, the umbrella group, is a company in the hospitality market with more than 20 years of experience in the sector.
We firmly believe that the future holds great challenges for energy efficiency and alternative energy use. We are committed to the optimization of your resources and savings on energy costs.
We want the use of clean energy to become a standard for our economic sector.
That's why we have partnered up with Digion Nuevas Tecnologías, specialized in the incorporation of energy efficiency, energy savings, building automation, and security solutions for all types of buildings such as hotels, schools, hospitals, sports centers, spas, temperature-controlled pools, etc.
For the first time in the hospitality sector, a company offers turnkey technologies and latest-generation renewable energy, offering the most innovative products on the market in order to provide tailored solutions for any kind of hotel or large facility.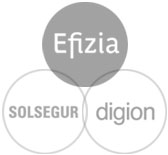 Efizia seeks to be synonym of indisputable quality, therefore only we work with the better firms inside the field of the efficiency and energy savings, inmótica, automated and new audiovisual contents management technologies and communications applied to the hotel sector.